In Ghana the only means of transportation for most families is on foot or by bicycle. There is a shortage of bikes however, so most people cannot attend schools and work without walking miles from their homes. For the past two years, in cooperation with The Village Bike Project, ARAS has collected bikes for Ghana. In May 2007 we collected, prepared and loaded 550 bikes for shipping. Many of the bikes were new or like new; however, as long as a bike is not rusted out, it can still be used, even if some parts are missing.
The Next Bike Drop Off:
Saturday, May 17th
9am – 1pm
Sammamish City Hall
801 228th Ave SE
Complete Flyer Below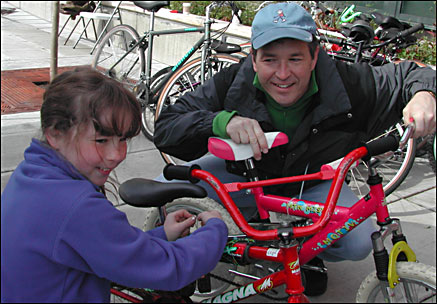 YOUR USED BICYCLE CAN MAKE
A DIFFERENCE IN AFRICA!
In Ghana, an impoverished country, the main form of transportation is walking - lucky ones ride a bike
to work, school and the market.
Please consider donating your bike to ARAS, a local
non-profit foundation that is supporting the
African Bike Project.
All bikes accepted, regardless of their condition
or size (no tricycles).
VOLUNTEERS NEEDED!
BIKE DROP OFF:
For more information: Mary Trask 425 868-8448



Home
Vision/Mission
Seminars
Bob Trask
Trask Triangle
Products
Testimonials
Want to Help?
News & Events
Make a Ripple

E-MAIL
Your Donations at Work
Boat Donations
Harvest Festival
Bike Project
Past Harvest Festival Photos
© ARAS Foundation 2007 - All Rights Reserved
Website Design by Anne Branson